Beyond2020 Tochigi KIZUNA Marathon in OhTAWARA
<Cabinet secretariat ORIPARA secretariat authentication business beyond2020 program>
It ends in success.
There will be marathon meeting, in Ohtawara-shi designaed folk cultural treasure, "the Bon dance song in Ohtawara"
There will be song and dance by a jazz group and the opening ceremony.

We need dance performers who can join our festival
Would you like to be a dance performer ?
Let's dance with our member.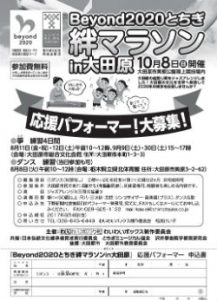 Entrance Fee)                 The entrance fee of a support performer is free.
Requirements)             dance (without restriction)
Condition)                     No age restriction When they're Ohtawara-shi people, everyone
Program)            The Bon dance originated in Ohtawara by Jazz arrangement
Formation of performance)   There will be Japanese harp, bamboo clarinet, shamisen, Japanese drum and Brass band dancing and singing
Application destination)     Shimotsuke Shinbun company banking department
Question)                   TEL 028-645-6449
WAIWAI BOX production Keiko Inami of the committee.